2-10, 1-CHOME NIIZA NIIZA CITY, SAITAMA, JAPAN
TEL:048-481-2501 FAX:048-481-9913
E-mailF
info@tmi-st.com
TMI DELUXE COLOR-CODED
PORTABLE TRIAL LENS SET
---
The TMI Trial Lens Set comes in a handy, rugged, atteche case for portable convenience.
All lenses are color-coded and clearly laid out for greater ease of selection.
The optometrisk knows at a glance which trial lens to use, and is always assured of a high
standard of optical quality.
New
Concept
From
cBEFORE YOU SELECT ANOTHER TRIAL LENS SETS
The equipment shown in this catalogue represents the latest available at the time of
this printing Designs and specifications are subject to change without notice.
Sphere
Cylinder
Prism
Special
(2each)
(2each)
(2each)
(2each)
}0.12D
}2.75D
}9.00D
}0.12D
}2.25D
0.50'
Occluder(occ)
}0.25D
}3.00D
}10.0D
}0.25D
}2.50D
1.00'
Polarizing plate
}0.37D
}3.25D
}11.0D
}0.50D
}2.75D
1.50'
0.00 Sphere(0.00)
}0.50D
}3.50D
}12.0D
}0.75D
}3.00D
2.00'
-
}0.62D
}3.75D
}13.0D
}1.00D
}3.25D
3.00'
-
}0.75D
}4.00D
}14.0D
}1.25D
}3.50D
4.00'
Special
}1.00D
}4.50D
}16.0D
}1.50D
}4.00D
Prism
(1each)
}1.25D
}5.00D
}18.0D
}1.75D
}5.00D
(1each)
Pin hole - 1.5mm(PH 1.5)
}1.50D
}5.50D
}20.0D
}2.00D
}6.00D
5.00'
slit - 1.0mm(SL1.0)
}1.75D
}6.00D
-
-
-
6.00'
Maddox Rods - Red(MR)
}2.00D
}6.50D
-
-
-
8.00'
Maddox Rods - White(MR)
}2.25D
}7.00D
-
-
-
10.0'
Green Filter
}2.50D
}8.00D
-
-
-
12.0'
Red Filter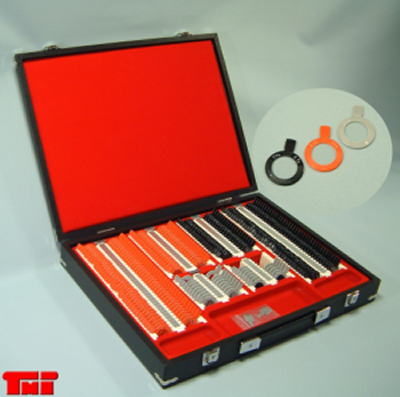 Strong Point
E
All lens rings are made of durable and light plastic that's color-coded
for easy identification.
E
The rings are also provided with index marks to ensure precise positioning.
The plus and minus axes of the cylinder power lenses and the cross cylinder unit,
in particular, are clearly identified.
E
These lenses are designed for use at the standard 12 mm corneal destance.
E
All lenses are fitted in a sturdy, dustproof attache case with cushioned lid for
full protection when carrying and storing.
SIZE
500W~40D~70'gimmj
WEIGHT
4Kgs,